"We have really everything in common with America nowadays except, of course, language." — Oscar Wild
"Every American child should grow up knowing a second language, preferably English." — Mignon McLaughlin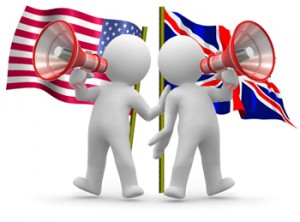 If we think about the relationship between the British and the Americans, it's interesting to realize the rivalry which exists between most of them, especially from a cultural and linguistic point of view. Since the very beginning, English travellers considered the new language which was developing in the New World as a barbaric version of pure British English. From then to now, British are accustomed to consider themselves as 'the original owners of English' and, therefore, the most traditional and purist among them keep on criticizing all kind of "Americanisms", especially those which creep into what they still consider the 'Queen's English'. The aspect of American English probably mostly criticized is its creativity, which involves creating new words, idioms and expressions or simply changing the pre-existent ones too easily, sometimes disregarding the past and the tradition. As a matter of fact, there seems to be a tendency in the U.K. to constantly attribute changes in British English to the influence of the U.S.A.
The widespread negative attitude towards Americanisms is probably worsened by the resentment to the American culture. What comes out from the web, mainly among common people who are not experts of the question, is that the U.S. culture is considered as unrefined and overwhelming, so what it's accepted or advisable in the States is actually viewd in Britain as rough, overbearing and typical of ignorant and arrogant people.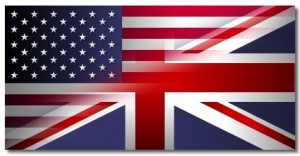 Actually, some British people (especially the youngsters) seem to positively judge the influence wielded by the States. In addition, Great Britain has done exactly the same, if not worse, a couple of centuries ago: they colonized new territories and imposed their own culture, religion and beliefs over other peoples, killing them where it was necessary. So the U.S. are just following the European example. They have been completely influenced, educated and manipulated on European models. Of course, inventiveness and experimental tendency (considered by the Brits as flaws) are judged by Americans as the best qualities of their language, because they give strength and vitality to it. Moreover, according to them, a language which is not flexible, or which refuses to be so, is useless and without a future. The American point of view is quite obviously a consequence of the British one.
In any case, American English shouldn't be considered as an inferior dialect of English, but as an independent language instead, even though some Americans still see their own language as slightly inferior to the British variety.