THE STRANGER
The Stranger within my gate,
He may be true or kind,
But he does not talk my talk–
I cannot feel his mind.
I see the face and the eyes and the mouth,
But not the soul behind.
The men of my own stock,
They may do ill or well,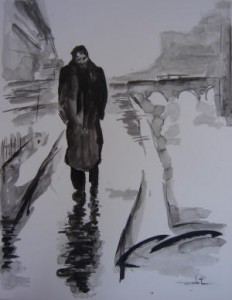 But they tell the lies I am wanted to,
They are used to the lies I tell;
And we do not need interpreters
When we go to buy or sell.
The Stranger within my gates,
He may be evil or good,
But I cannot tell what powers control–
What reasons sway his mood;
Nor when the Gods of his far-off land
Shall repossess his blood.
The men of my own stock,
Bitter bad they may be,
But, at least, they hear the things I hear,
And see the things I see;
And whatever I think of them and their likes
They think of the likes of me.
This was my father's belief
And this is also mine:
Let the corn be all one sheaf–
And the grapes be all one vine,
Ere our children's teeth are set on edge
By bitter bread and wine.
Rudyard Kipling
L'ETRANGER
- Qui aimes-tu le mieux, homme énigmatique, dis ?
ton père, ta mère, ta soeur ou ton frère ?
- Je n'ai ni père, ni mère, ni soeur, ni frère.
- Tes amis ?
- Vous vous servez là d'une parole dont le sens m'est
resté jusqu'à ce jour inconnu.
- Ta patrie ?
- J'ignore sous quelle latitude elle est située.
- La beauté ?
- Je l'aimerais volontiers, déesse et immortelle.
- L'or ?
- Je le hais comme vous haïssez Dieu.
- Eh ! qu'aimes-tu donc, extraordinaire étranger ?
- J'aime les nuages… les nuages qui passent… là-bas…
là-bas… les merveilleux nuages !
Charles Baudelaire
GIROVAGO
In nessuna
Parte
Di terra
Mi posso
Accasare
A ogni
Nuovo
Clima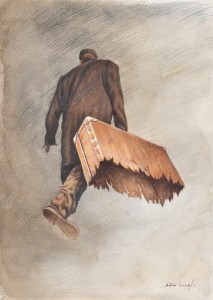 Che incontro
Mi trovo
Languente
Che
Una volta
Già gli ero stato
Assuefatto
E me ne stacco sempre
Straniero
Nascendo
Tornato da epoche troppo
Vissute
Godere un solo
Minuto di vita
Iniziale
Cerco un paese
Innocente
Giuseppe Ungaretti